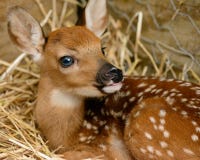 Is there a message you would like to share?
Autumn's golden/brown leaves
          High-pitched whistle in my ears
               Buzzing hands
          Breathe deeply
Is there someone who wishes to share?
I do
     I want to share
It's this way tonight
On the way to the farm
     I had a dream
     I was sleeping in the car
          And it came to me that
          Of all the places I might have been on this night
               This was the place I was most meant to be
And in the dream
     In the dream
          A fawn came
               Right into the barn
          Right into the barn and lay in the straw at my feet
It spoke to me
     It looked me in the eyes
         And with its eyes
               It said,
          That I was to move everything in my life aside
               To make room for this place
And then I could see
I could see myself living there
     Working in the farm house
          As though it were my own
     Setting up the kitchen table
          For family and friends
               And having everything I needed
                    To share generously
The fawn came
     And I crouched and listened
          With joy in my heart
And now I'm here and I'm driving up the drive in my parents' car
I'm ten years old
     And I'm looking out the window
     I'm looking for the fawn
          Half expecting to see it
               Wander right out into the yard from the forest                       To make its pledge to me
I hop out of the car
     The sun is hot
          And already I feel more at home here
               Than anywhere I've ever been
I'm going to listen
     I'm going to listen to that gentle spirit
          Baby
               Fawn
                    Messenger
                         Show me!
~
© Copyright 2016 All Rights Reserved Catherine ~ On Spirits' Wings