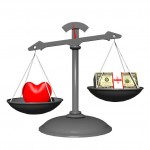 The following is an example of a channeled message received by a client who has given me permission to share.  When you "Ask Spirit", this is the kind of response you may receive.  With love ~ Catherine
Along the way we find ourselves
     In the kingdom of confusion
What can we say to that??
I'd like to know
     Where your heart is
          With this issue of finances
We suggest
     Take time to breathe into your conscious mind
There you will find a multitude of ways
     To reach the goal you seek
               My question to you might be
               What does your heart yearn for?
What is it that you seek
     With your finances
          That will feed your soul?
With the utmost respect
     I would like you to seek the answer to this question
Your heart is calling out to you
What is it saying?
What is your intention?
What is your goal
     Beyond financial security?
I hear a calling that is beyond money in hand
     There is more to this than simply having more
Would you say?
I would like to hold a card for you today
     Listen deeply for the love of self in these words
Seek the answers in your heart
     The words you hear,
          Are ones to adhere to
               With the greatest love and attention
Do not listen lightly
     Listen deeply
          For this is your soul calling to you
I wish to offer words of
     Amen
          To your soul
          And shower you with love and light
               As you wend your way along the path of self love
Seek only that which
     Is to your Highest Good
          In all ways
Allow your conscious mind
     The grace you would afford
          All those you love
     Seek love
          In all ways
          This is the precursor
               The missing piece
                    At this juncture
Love yourself
     And let love in
          So that abundance can flow
     In all ways
     In
          And around
               And through you
                    To all those you love
Abundance in all ways
    Remember that
Because there are riches
     Beyond measure
          Waiting to avail themselves to you
               Why limit yourself to cash as a vehicle?
                    A token of success?
      Breathe love
     Be love
          And all you seek
                     All you seek
Hear me now…
All you desire
     For better or worse
          Will be yours
Anticipate the greatest love
     So this love
          Knows where to land
                     Peace be with you
~
© Copyright 2015 All Rights Reserved Catherine ~ On Spirits' Wings
Save
Save